On behalf of the church community at St John's we would like to welcome you to our website. St John's is a friendly Christian community that seeks to enable people of all ages to meet with God through the local church.
 Reverend Kirsty Screeton. Vicar of St. John's and St. Luke's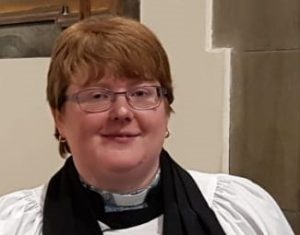 Fourth Sunday of Lent – Mothering Sunday – Sunday 19th March
Collect, Readings and my sermon can be  found on the  Services: Sermon and Prayers page of the Menu.
For baptism, wedding and reading of banns bookings and enquires please come along to our office booking session. 3rd Sunday of each month 12.15 – 12.45pm in the church hall. You are more than welcome to join us for our all age worship before at 11.15am. (For funerals your funeral director will make contact with us).
Notices
A reminder of Lent Study on Tuesday 21st at 7.30pm at S John's.
If people didn't come last time that is fine, they can join this time.
If attending, please bring something that represents your work life – this could also incl past work, voluntary work, etc. Could be an item, letter headed paper, photo, etc.
PRAYER REQUST FORM
An updated Prayer Request form has been placed at the back of church for anyone to request Prayers of Intercessions be said on behalf of a relative, friend or other third party. This can be for any reason, a death, or anniversary of death, physical or mental illness, either at home or in hospital, an accident, or special need, awaiting an operation or results of a test. All we ask is that you have the person's permission to pray, and/or name them on their behalf. If you wish the request to last over more than one week, please indicate on the form. The Intercessor will pick up that form on Sundays, and ensure the person is named and included in the prayers.
Intercessors – Could we ask you to seek out this form on the Sunday you are doing the Prayers, so that any requests are fulfilled. A copy of the form is attached for your information.
APCM Sunday 21st May 2023
The process of preparing an entirely new Electoral Roll takes place every six years. This full renewal process was last undertaken in 2019, and needs to be updated each year. The process is set out in the Church Representation Rules and must be updated and notified every year to the Annual Parochial Church Meeting, which this year is on Sunday 21st May 2023It requires every person who wishes to have their name entered on the Roll to complete an enrolment form stating that they are baptised and over 16 years of age and that they are, either,a member of the Church of England and resident in the Parish,
not resident in the parish but regularly attended church in the Parish for six months
of good standing within another church which subscribes to the doctrine of the Holy Trinity and again have attended church regularly in the Parish for six months.
Forms are now available at the back of church together with the Current Electoral roll. Forms must be returned by Sunday 23rd April 2023. Please check that your name is already on the current Electoral Roll, and let Norman Collinson know of any discrepancies.Upcoming Dates

– Wednesday 12th April Alzheimer's Coffee Morning 10.30 – 12noon
– Sunday 7th May Bring and Share Kings Coronation Lunch following the service (joined by St Luke's congregations) – All are welcome. More details to follow.
– Sunday 21st May APCM with Songs of Praise – More details to follow
– Saturday 13th May Houghton Weavers Concert at St Luke's
– Sunday 25th June 3pm – Mission Community Confirmation Service
– Sunday 9th July Joint service (location TBC) and shared Lunch to welcome Kirsten Stott and family (our new curate)
Lent and Easter Services
Lent Conversations with Churches Together
Wednesday 29th March – 1.30pm—2.30pm @ Heywood Baptist Church
Lent Study and Compline
7.30pm – 9pm at St John's Church
Tuesday 7th March & Tuesday 21st March
Palm Sunday – 2nd April
Receiving of Palm Cross and Celebration of Holy Communion
9.15am St Luke's Church & 11.15am St John's Church
Monday – Wednesday of Holy Week (3rd—5th April)
Compline on Zoom at 9pm
(Contact us for logon details –
will be shared with those on our weekly mailouts)
Maundy Thursday
10.30am BCP Holy Communion service at ST John's
7pm Tenebrae Service at St Luke's (Venue TBC)
Good Friday
10.30am Reflective Service at St John's
12.30pm Churches Together Service, outside St Luke's
Easter Day
Celebration of Holy Communion
9.15am St Luke's Church & 11.15am St John's Church
Diocese News / communications / etc:
Training courses available – If anyone wishes to explore I (Rev'd Kirsty) am in full support and can discuss this further with you.
We have some fantastic training courses taking place from April. Open to anyone who wants to get more involved in the life of their church, all ages are welcome. Simply choose one of the options from the list below:
Children and families
Community outreach and social action
Digital church and online media
Ecology and creation
Mission and evangelism
Parish admin, finance and governance
Pastoral outreach and listening
Prayer and spirituality
Worship and liturgy
Youth work
These courses last 12 weeks and are a mix of online and in-person sessions at a variety of venues around the diocese.
For more information head to our webpage.
To register your child for St. John's Sunday School please complete the following short online form https://forms.office.com/r/4kAu2Bif9f . For further information email Naomi Morris at stjohns_sundayschool@outlook.com  
For hall booking enquires please complete our 'Contact Us' option and your message will be forwarded to the relevant person.
If you want some bereavement support, feel free to contact our lay bereavement minister on Diane Pullan – 07761 864267
For other enquires not answered via our website please either contact us via our 'Contact Us' page and your message will be forwarded to the relevant person, or contact our Church Warden, Carol Grime, on 07735796396.
Church Warden: Carol Grime – grimec77@gmail.com / 07735796396
Church Calendar – a list of church / hall availability is on the calendar in the hall, however before adding anything, please do just check with Geoff and Joan Varley. This is mainly as they are overseeing funeral bookings so need to know when church is available and not. varwin@hotmail.co.uk
Both St. John's and St. Luke's can be found on Facebook or via their websites:
St. John's Hopwood (stjohnshopwood.org) / St Luke's Church, Heywood – Home (stlukesheywood.org.uk)
If you wish to discuss any pastoral matter, please contact our Minister Rev Kirsty Screeton via our Contact page.
If we can be of any help during this time of uncertainty please do get in touch.
If you want to contact us, please click here.
Mission Purpose Statement:
We are called by God to know Jesus through worship and discipleship. We seek to share the love of Jesus in our local community through welcome and outreach.
 For God loved the world so much that he gave his only Son, so that everyone who believes in him may not die but have eternal life.  John chapter 3 verse 16.
For a link to a location map, please click here – the church is on the junction of Manchester Road and Middleton Road.
Easyfundraising Website If you wish to support us with your online shopping, you can now do so via our new Easyfundraising website. St. Johns then receives a donation on your behalf from any of the 2000 retailers you may visit & shop on line. Just follow the link below to sign up as a Supporter. It takes two minutes and can make a big difference through very little effort, especially if you also agree to Gift Aid your donations. – Fundraising | Charity Fundraising Online | You Spend Online, Brands Donate | Easyfundraising