On behalf of the church community at St John's we would like to welcome you to our website. St John's is a friendly Christian community that seeks to enable people of all ages to meet with God through the local church.
 Reverend Kirsty Screeton. Vicar of St. John's and St. Luke's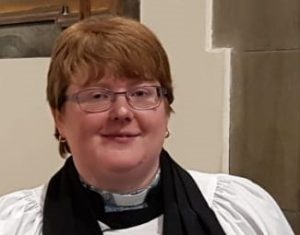 16h Sunday after Trinity.  
Sermon, Prayers by John S. and Home Service for the 16th Sunday after Trinity can be found on the: Services: Sermon and Prayers page of the Menu.
Dates / Notices:
This Weekend: Sunday 19th September – Harvest Festival & All Age Service. Please do bring items suitable to send to Heywood Food Bank.
Next Weekend:
Saturday 25th September – Coffee Morning (if you have any items suitable for tombola, please do start bringing them to church).
Please note the Coffee Morning Time is 10.30am NOT 10am start.
Sunday 26th September – 3pm– Churches Together remembrance events
This is a service with the opportunity to come together with people across Heywood to remember the lives lost over the past 18+ months, and those who lives have changed as a result of the pandemic. Please do spread the word, and if anyone could help welcome and be around please let Kirsty know.
Other Notices
From end of September Naomi is willing to prepare Sunday School materials and do the main story input. However, in order for the children to get the most of our Sunday schools Naomi is in need of some help. Help would involve
Sitting in on the main input
Then supporting the older groups in their work. This will be prepared, so just turn up and get involved.
We are looking open to either one person helping each week, or to set up a Rota system. If you would be interested in either of these, please can you let myself or Naomi know asap.
For those who are wanting secondary school forms signed this year, you should have received a copy of my letter from Sunday School leaders. If you have not received one and would like a copy please do get in touch.
Below Septembers Monthly Reflection
Quiz Night –St Luke's have set the date for this year's quiz night – 23rd October
Please see a link to a new monthly prayer lead from Bishop Mark Davies for the diocese. All the details are on the link – Diocese of Manchester Monthly diocesan prayer with Bishop Mark (anglican.org)

September Reflection – Saint John Bunyan
Writing this on the 30th August, I was reminded about today's Saints John Bunyan, a
Spiritual Writer born in 1628 and died on this day in 1688 aged 59. For many the
name may not mean anything on its own but if I was to tell you he is the author of
Pilgrims Progress, this may ring a bell. So, having not reflected on a Saint for a few
months now – why do we remember Bunyan in the church? – Here some highlights
taken from the Church of England Saints on Earth book.
John Bunyan was born in Elstow, near Bedford. He served an apprenticeship at his
father's trade, and during the Civil War served for a time in the Parliamentary army.
In about 1648 he married Margaret Bentley, and as a result of her Christian witness
he attempted to reform his life. After several years of striving to reform and
despairing of his efforts he came to both a living faith and an assurance of salvation.
He joined the Independent congregation in Bedford and later began a preaching
ministry there. After his wife's death, Bunyan remarried and became a popular
preacher, speaking to larger audiences and at the same time coming into conflict
with the local clergy who resented uneducated and unordained preachers. After the
Restoration of Charles the 2nd in 1660, the Church of England reasserted its
authority and action was taken against unlicensed preachers. Bunyan, who refused
to stop his preaching ministry, spent most of the next twelve years in Bedford jail.
With little to read other than the Bible and John Foxe's Book of Martyrs, Bunyan
began to write religious tracts and pamphlets and, most importantly, his spiritual
autobiography, Grace Abounding to the Chief of Sinners (1666).
Bunyan was released in 1672, but by 1675 he was back in prison serving a six month sentence for unlicensed preaching. It was during this time that time he
probably wrote a large part of his major work, The Pilgrim's Progress, a metaphorical
text of the pilgrimage of a soul in search of salvation, which was published in 1678.
The instant popularity of Pilgrim's Progress can be deduced from the fact that ten
editions were printed during the remaining ten years of Bunyan's life. It eventually
became the most widely read book in the English language after the Bible and it
greatly influenced later English writers. Noted for its simple, biblical style, The
Pilgrim's Progress is now generally considered one of the finest tales in all of English
literature – not just among spiritual writings – and has been translated into many
languages.
So what can we learn today from John Bunyan? I am going to hold my hands up,
sounding very knowledgably, I think, up to now, how I felt on Saturday when I first
looked up the service plan for today was very different. I had heard of Pilgrims
Progress but I have never heard of Bunyan or even read the Pilgrims Progress Tale.
As I dug into the history of this spiritual writer and read part of his tale (rest of the
book is on order) I felt upset wondering why I had not come across this man and his
writings before. You can tell from Bunyan's life story that he is a man who has gone
through the strains, obstacles and questions of life in search for something better.
And even when he found and came to faith, these obstacles and challenges became
harder. What he lived and experienced, what he hoped for, for himself and for others
going forward, is what's reflected in Pilgrims Progress Tale.
Without giving too much away, for those who, like me who are yet to discover the
whole story, here is a short insight. Wrote as a dream and metaphorically, there is
the main character called Christian, who with his companions, first Faithful then
Hopeful, journeys from the City of Destruction to the Heavenly City. They, encounter
en route many obstacles and hazards which include the Slough of Despond, the Hill
Difficulty, Doubting Castle, By-Path Meadow and Vanity Fair. It's a story of a man
who is carrying a lot of sinful burden and it is released by finding faith and learning
that Jesus' died for our sins, but the journey doesn't stop there. With new hope,
newly clothed and full of God's Spirit Christian continues the journey in the search of
the heavenly city. It's a story that is so true of any faith journey, as you journey with
Christian you can recognise the ups and down of most faith journeys, but as you
read and apply your own similar experiences, it's a story that becomes real.
Bunyan teaches us that journeying a faithful life is not easy but what is rewarded at
the end if we keep on the right path is that heavenly City, God's eternal kingdom.
Just like we continue to reflect on in our readings during this ordinary time, we are
encouraged to embrace our faith journeys, to stay alive in our searching for growth
and understanding and on our journey, we are to remain focussed on the promise
that all who follow Christ have – a place in the heavenly city. Cause if we have this,
any obstacle in our way can be overcome.
My prayer for each of you, is that you can take something from Bunyan's work that
encourages you in your faith and encourages you that even when things get tough
there is a point to continue – God is present always, God is alive and encourages you
to be and grown, and with God's help anything is possible. Amen
 Rev'd Kirsty can be contacted on  01706 416 279, via email 'revkirstyscreeton@gmail.com' or via our Contact page.
If you wish to book or discuss a baptism, wedding or any pastoral matter, please contact our Minister Rev Kirsty Screeton on the vicarage telephone number 01706 416279, or via our Contact page.
If we can be of any help during this time of uncertainty please do get in touch.
If you want to contact us, please click here.
Mission Purpose Statement:
We are called by God to know Jesus through worship and discipleship. We seek to share the love of Jesus in our local community through welcome and outreach.
 For God loved the world so much that he gave his only Son, so that everyone who believes in him may not die but have eternal life.  John chapter 3 verse 16.
For a link to a location map, please click here – the church is on the junction of Manchester Road and Middleton Road.