On behalf of the church community at St John's we would like to welcome you to our website. St John's is a friendly Christian community that seeks to enable people of all ages to meet with God through the local church.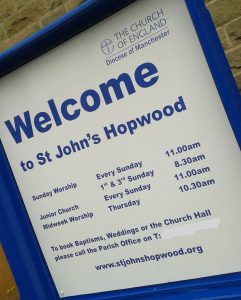 Following the retirement of our Priest-in-Charge, Rev. Shirley Devine, we are currently in a period of Interregnum until a replacement is chosen.
Vicarage Ansaphone – 07751 098 377
      Contact with St. John's church can also be made on email via this website.
Dates to book or discuss Baptisms or Weddings are held on the 2nd and 4th Wednesday of the month at St. John's Church and on the 1st and 3rd Wednesdays at St. Luke's Church from 6.00pm to 7.00pm.
No appointment is necessary. Only one person need attend, but both partners can come and bring children if that is easier.
WORLD WAR CENTENARY
St John's Church are planning special events to commemorate the centenary of the end of the First World War.
On Saturday 10th November we will be holding a Coffee Morning in the Parish Room. In Church and the Parish Room there will be displays to remember the men from the parish who died in the war. We are asking for family members and relatives of those who took part in the First World War to submit photos, etc. for another display.
There will be a prayer tree in church for visitors to attach messages, if they so wish.
The event runs from 10.30a.m. until 3p.m.
Light refreshments will be available throughout the day.
On Sunday 11th November there will be a service of remembrance starting at 10.45a.m., when we will observe the two minutes silence & the names from the War Memorial will be read out.
These events are open to everyone & especially to anyone who has a relative named on our memorial.
All proceeds from the Saturday Event will be donated to the 'HELP for HEROES' charity.
Mission Purpose Statement:
We are called by God to know Jesus through worship and discipleship.
We seek to share the love of Jesus in our local community through welcome and outreach.
If you want to contact us, please click here.
For a link to a location map, please click here – the church is on the junction of Manchester Road and Middleton Road.
You can support us through Easyfundraising.