On behalf of the church community at St John's we would like to welcome you to our website. St John's is a friendly Christian community that seeks to enable people of all ages to meet with God through the local church.
We welcome Reverend Kirsty Screeton as our new vicar of St. John's and St. Luke's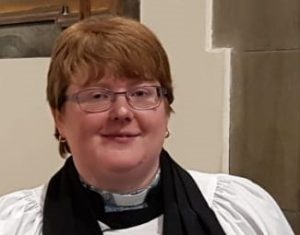 SUNDAY TRINITY 4
We are delighted to advise that St John's is now open for Private Prayer on Sundays and Thursdays 10 – 12 noon.  Please read the following church etiquette below and do refer back regularly for changes.
The sermon and prayers for Sunday 5 July and previous Sundays can be found under Trinity on the menu. (I will also be posting each day the reflections on our facebook pages, so feel free to share or read on there if easier.)
Many of you are aware that  Wendy Coupe was to move from Heywood. Regrettably, this has been put on hold for a few more weeks.  Denise with the help of Elizabeth and Janet had already written a farewell message, so here it is, if now a bit early.
Wendy and late husband Mike, have been part of St Johns for much of their lives and we wanted to not only mention this big event for Wendy, but to wish you well and send you with our prayers and best wishes.
Wendy & Mike moved into Glamis Ave after their marriage 56 years ago this August. Jonathan was baptised at church in March 1968 & Elizabeth in May 1972. William was baptised at a church in Middleton we think, from what Wendy told us last year when doing the display on baptisms.
The children attended Sunday School & were in the uniform organisations so they guess Wendy has been coming to church for over 50 years.
In the early 1970's Wendy, along with a group of other ladies started the playgroup which met in St John's Sunday School on Siddall St.
Wendy has been involved in the choir, the Art Group, flower arranging, Social Committee & , I think, Mother's Union.
(She was on the PCC and also helped with the Office Hour and initially a founder member of the Walking Group)
Wendy's late husband, Mike, was involved in work on the kitchen & toilet extension & did electrical work in church for us. He died some years ago"
We wish you well on your journey Wendy and do stay in touch!
Blessings
Kirsty
Church Etiquette
Please do not come to church if you are showing any symptom of COVID-19. Follow government guidance and isolate for the correct amount of time. Before coming to church please also check government advice on current restrictions and allowances for your own situations. Especially if you are in the vulnerable and at-risk groups. If you need help or unsure of the guidance please contact Rev Kirsty.
Arrival / Exit:
The entrance to church is through the main doors on Manchester Road (for those who need ramp access the side door will be open and available for use also).
The exit is through the ramp access door at the front right hand side of church. Please carefully read all signs and notices and follow the directions in church. When possible, doors will be left open to red less en touch contact, so please leave them like this as you enter and leave.
You will be greeted and asked to use the hand sanitiser as you enter before being shown the one-way system. (Arrows to remind you are on the floor – Centre aisle down, side aisle back up to back of church). Hand sanitiser is also available by the door on the way out.
Inside Church:
Pews not in use have been taped off. For pews in use please sit where the mats are placed towards the end of each pew. If a mat is on the floor the Pew is not currently available for the prayer session or waiting to be cleaned. Once cleaned you will be directed to pews that can be used. Remember when walking through church and in the pews keep the recommend social distance.
Due to restricted seating we encourage you, if appropriate, to sit with your household members / formed social bubble. (We can accommodate up to 30 individual / group sittings per opening)
You may wish to bring a prayer book with you for use – There are NO shared books for use in church and if you pick up any loose leaflets / booklets you MUST take these away with you, remember to bring them back next time for your use if appropriate.
Should you need to use the Toilet facilities please walk up the side aisle to the back of church and access them through the hall. All doors will be open for easy access. And use of hand sanitizer to and from the toilets is encouraged.
Should you wish to bring your usual (and past) money giving's a box at the back of church will be available for you to place your contributions in. (For anyone who is yet to receive their yearly envelopes for gift aid giving, please speak to the welcome team).
If you have any prayer requests, support needs, etc please either speak to those on duty or contact Rev'd Kirsty. 01706 416 279 revkirstyscreeton@gmail.com
If you have any questions or concerns, please speak contact Rev'd Kirsty to discuss.
If you wish for prayers for a friend or a relative you can provide details via our Contact page.
If you wish to book or discuss a baptism, wedding or any pastoral matter, please contact our Minister Rev Kirsty Screeton on the vicarage telephone number 01706 416279, or via our Contact page.
If we can be of any help during this time of uncertainty please do get in touch.
We wish to thank all who have been providing food for the Heywood Food Bank, especially over the last few weeks.  It is very much appreciated.
If you want to contact us, please click here.
Mission Purpose Statement:
We are called by God to know Jesus through worship and discipleship. We seek to share the love of Jesus in our local community through welcome and outreach.
 For God loved the world so much that he gave his only Son, so that everyone who believes in him may not die but have eternal life.  John chapter 3 verse 16.
For a link to a location map, please click here – the church is on the junction of Manchester Road and Middleton Road.
You can support us through Easyfundraising.