On behalf of the church community at St John's we would like to welcome you to our website. St John's is a friendly Christian community that seeks to enable people of all ages to meet with God through the local church.
 Reverend Kirsty Screeton. Vicar of St. John's and St. Luke's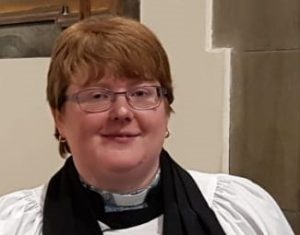 Trinity 16 – Sunday 2nd October 2022
Thank you for visiting St John's Hopwood website. A lot of our church information re services, clubs, contacts and recent sermons and prayers can be found on the relevant information pages. However below are some quick finds and temporary updates, especially in my absence due to being on maternity leave from the 22 March. Blessings Kirsty
The Collect, Readings and Prayers from Tony can be found on the  Services: Sermon and Prayers page of the Menu.
For baptism, wedding and reading of banns bookings and enquires please come along to our office booking session. 3rd Sunday of each month 12.15 – 12.45pm in the church hall. You are more than welcome to join us for our all age worship before at 11.15am. (For funerals your funeral director will make contact with us).
For hall booking enquires please complete our 'Contact Us' option and your message will be forwarded to the relevant person.
If you want some bereavement support, feel free to contact our lay bereavement minister on Diane Pullan – 07761 864267
For other enquires not answered via our website please either contact us via our 'Contact Us' page and your message will be forwarded to the relevant person, or contact our Church Warden, Carol Grime, on 07735796396.
Notices:
Please find below Confirmation Classes form and High School admission letter. Confirmation is being run across the mission community which is great news. Please note date and location.
There will be coffee and cake served in Church at 10.30am on Saturday 1st October and a quiz night including pie and peas at St Michael's Scout hut at 6.30pm on 7th October. The quiz costs £10 – please see Diane Pullan for more information
The Harvest Service has been changed to  Sunday 16th October at 11.15am. We will be collecting items for the Heywood Food Bank. Please bring suitable items; tins and packets, to the service
In September, we will be starting the Shoebox collection and this year the boxes are going to Romania and Moldova instead of Belarus due to the war in Ukraine. Please help us with this appeal by taking a shoebox to fill with items suggested on the leaflet of if you prefer, we will happily accept donations and make up the boxes to send

To register your child for St. John's Sunday School please complete the following short online form https://forms.office.com/r/4kAu2Bif9f . For further information email Naomi Morris at stjohns_sundayschool@outlook.com  

 Calling all prospective parents and carers: you are cordially invited to attend our Year 5/6 Open Evening. Holy Family RC & CE College: Pot Hall, Wilton Grove, Heywood OL10 2AA
Open Evening – Wednesday 5th October 2022 – 4.30-7.30pm
For further information, please visit the school website.
Visit our website: hfch.co.uk
Confirmation Classes St. John's and Heywood Churches.
Ahead of the Confirmation service at 3pm on 6th November 2022 at St James, Heywood confirmation classes will be held as follows:
Wednesday 21st September 5pm-6pm at St Luke's, Heywood
Wednesday 5th October 5pm-6pm at St Luke's, Heywood
Wednesday 19th October 5pm-6pm at St Luke's, Heywood
Sunday 30th October 3pm-4.30pm at St James, Heywood
These sessions are designed primarily with young candidates in mind. A parent/ guardian/ responsible adult must be with the child for each of the sessions. Confirmation is usually offered to those in Year 6 or older. If your child is approaching this age and keen to be confirmed, please speak to your church/Sunday school leaders as we may be able to petition the Bishop on their behalf.
If you were not confirmed as a child and are exploring confirmation at an older age, please contact Revd Sally using the details above and she will be happy to talk with you about preparation to help you on your journey to confirmation. If you/your child would like to be confirmed, please fill in the information below and return it to your church leaders or email it to revsallyrobinson@hotmail.com.
Many thanks
Rev'd Sally Robinson – email  revsallyrobinson@hotmail.com.  0161 643 3184 07496195540
Name of Candidate
Date of Birth
Date and place of Baptism
Address
Contact phone number
Email Address
If you do not know a date of baptism, please indicate whether the candidate is baptised and a rough timeframe. Please be aware evidence of baptism will be required before the confirmation service. If you have not previously been baptised please speak to Revd Sally
High Schools Admission Letter
St John's Church, Hopwood & St Luke's Church, Heywood
Rev'd Kirsty Screeton
St Johns Vicarage
Manchester Road Heywood OL10 2EQ
01706 416 279 revkirstyscreeton@g m ail.com
For pare n t s / c a r e r s ma ki n g Church of England High School Applications.
for their child r e n for ad mi s s i o n in Sep t e m b e r 202 3
Dear parents/ca r e r s,
As you will be aware, Church of England high schools have their own application for admission forms which need to be completed in addition to the Local Authority form on which preferences are recorded .If you are making an application to any of these schools, it is your responsibility to obtain the relevant school application for admission form and to complete the necessary sections before it is signed by me. Each school will ask for confirmation of your child's, and possibly your, pattern of church attendance over a period of time – that period of time varies depending on the school. In each case, there will be a request for a church leader to confirm the attend a n c e figures and this is something that I will do for you.
In order to make the completion of forms as straightforward as possible (and due to my current position, being on maternity leave) please drop any forms to be signed through the vicarage door by Sunday 11 th Sept e m b e r .Drop your relevant form off, along with the first section complete d with your child's name. Please also include a note with the name of the church you attend, plus any other church es that need to be considered. If you are also wanting to
count past parade services, please also provide me relevant leaders names and contacts.
The forms will then be completed, and you can collect them from Carol at church after the service on Sunday 18th Sept e m b e r or Sunday 25th Sept e m b e r .
I hope this information is helpful to you.
With every good wish.
Rev Kirsty Screeton
We have received the following message from the Revd Anne Gilbert, more details are attached
I am writing to let you know about some events we have planned for September, firstly a series of talks called Dying To Talk, I have convened these as part of my role as Manchester Diocese and Rochdale Deanery Funeral Champion. I have also planned a Suicide Awareness event for the national day on 10th September. I would appreciate it if you could promote these, and encourage your parishes to participate, I have attached an outline of each event.
Contacts whilst Rev. Kirsty is on leave: please find below some key contacts should you need them
Church Warden: Carol Grime – grimec77@gmail.com / 07735796396
Church Calendar – a list of church / hall availability is on the calendar in the hall, however before adding anything, please do just check with Geoff and Joan Varley. This is mainly as they are overseeing funeral bookings so need to know when church is available and not. varwin@hotmail.co.uk
Both St. John's and St. Luke's can be found on Facebook or via their websites:
St. John's Hopwood (stjohnshopwood.org) / St Luke's Church, Heywood – Home (stlukesheywood.org.uk)
If you wish to discuss any pastoral matter, please contact our Minister Rev Kirsty Screeton via our Contact page.
If we can be of any help during this time of uncertainty please do get in touch.
If you want to contact us, please click here.
Mission Purpose Statement:
We are called by God to know Jesus through worship and discipleship. We seek to share the love of Jesus in our local community through welcome and outreach.
 For God loved the world so much that he gave his only Son, so that everyone who believes in him may not die but have eternal life.  John chapter 3 verse 16.
For a link to a location map, please click here – the church is on the junction of Manchester Road and Middleton Road.