On behalf of the church community at St John's we would like to welcome you to our website. St John's is a friendly Christian community that seeks to enable people of all ages to meet with God through the local church.
 Reverend Kirsty Screeton. Vicar of St. John's and St. Luke's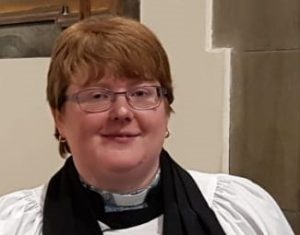 1st Sunday of Advent  – Sunday 27th November 2022
Collect, Readings, Sermon from Kirsty and Prayers by Tony can be found on the  Services: Sermon and Prayers page of the Menu.
For baptism, wedding and reading of banns bookings and enquires please come along to our office booking session. 3rd Sunday of each month 12.15 – 12.45pm in the church hall. You are more than welcome to join us for our all age worship before at 11.15am. (For funerals your funeral director will make contact with us).
Notices:
Rochdale Borough Council are offering warm spaces;
If anyone can donate new blankets or knitted ones – Can bring to church and Kirsty will send to where needed.
Warm Places / Hubs are being offered across the Rochdale area. Please see link;  Warm Spaces in the borough of Rochdale | Rochdale Borough Council
Please share these with those not on line, elderly, neighbours, etc.
The Diocese Lay Training Course is now open again for applications. You can either sign up for the whole course and accreditation, or just do one of the Ministry Electives for training and personal learning. If anyone is interested, wants to discuss in more details, see the full prospectus please speak to Rev'd Kirsty. Deadline is January for applications for course, March (ish) for electives.
Easyfundraising Website If you wish to support us with your online shopping, you can now do so via our new Easyfundraising website. St. Johns then receives a donation on your behalf from any of the 2000 retailers you may visit & shop on line. Just follow the link below to sign up as a Supporter. It takes two minutes and can make a big difference through very little effort, especially if you also agree to Gift Aid your donations. – Fundraising | Charity Fundraising Online | You Spend Online, Brands Donate | Easyfundraising
To register your child for St. John's Sunday School please complete the following short online form https://forms.office.com/r/4kAu2Bif9f . For further information email Naomi Morris at stjohns_sundayschool@outlook.com  
Following our Shoebox Appeal , we made a record collection of 179 shoe boxes, which will be going to children in the Ukraine and Moldova.
Advent and Christmas Services
Sunday:
9.15am St Luke's Church, Heywood (Sunday School)
11.15am St John's Church, Hopwood (Sunday School Term Time)
Mid–Week:
Wednesday 7th December 4.30pm Creative Church at St Luke's Church (Fortnightly Term Time)
Thursday 10.30am – Weekly Communion Service at St John's (1st Thursday of Month BCP)
All are welcome to join us during this preparation and festive season.
Carol Services
Wednesday 7th December – Heywood Town Service – 7pm at St Joseph's Catholic Church
Sunday 18th December 11.15am – All Age Service (including our Sunday School Nativity) – St John's
Christingle Service
Sunday 18th December at 3pm – St Luke's
Please do come along between 2.30 and 2.50pm to make your Christingles.
(Donations for the Children's Society)
Crib Services
Christmas Eve at 3pm – St Luke's
You are invited to come to the service dressed as a Nativity Character or pick from our collection
Combined Crib and Christingle Service
Christmas Eve at 5pm – St John's (including Sunday School Nativity)
(Donations for the Children's Society)
Midnight / Christmas Day Services
11.45pm: The First Communion of Christmas at St John's
9.15am: Holy Communion Family Service at St Luke's
1st January
11.15am – Holy Communion Family Worship – St John's
In addition:
• Saturday 10th December – Coffee Morning 10.30am – 12noon – St John's
• Saturday 17th December – Blackley Brass Band concert – St Luke's 7pm
• Sunday 18th December – Violin Recital by Victoria Farrell Reed – St Luke's 6.30 – 8pm.
Followed by Mince Pie and Mulled Wine
See posters / facebook / website for ticket information or pay on the door
For hall booking enquires please complete our 'Contact Us' option and your message will be forwarded to the relevant person.
If you want some bereavement support, feel free to contact our lay bereavement minister on Diane Pullan – 07761 864267
For other enquires not answered via our website please either contact us via our 'Contact Us' page and your message will be forwarded to the relevant person, or contact our Church Warden, Carol Grime, on 07735796396.
Church Warden: Carol Grime – grimec77@gmail.com / 07735796396
Church Calendar – a list of church / hall availability is on the calendar in the hall, however before adding anything, please do just check with Geoff and Joan Varley. This is mainly as they are overseeing funeral bookings so need to know when church is available and not. varwin@hotmail.co.uk
Both St. John's and St. Luke's can be found on Facebook or via their websites:
St. John's Hopwood (stjohnshopwood.org) / St Luke's Church, Heywood – Home (stlukesheywood.org.uk)
If you wish to discuss any pastoral matter, please contact our Minister Rev Kirsty Screeton via our Contact page.
If we can be of any help during this time of uncertainty please do get in touch.
If you want to contact us, please click here.
Mission Purpose Statement:
We are called by God to know Jesus through worship and discipleship. We seek to share the love of Jesus in our local community through welcome and outreach.
 For God loved the world so much that he gave his only Son, so that everyone who believes in him may not die but have eternal life.  John chapter 3 verse 16.
For a link to a location map, please click here – the church is on the junction of Manchester Road and Middleton Road.