On behalf of the church community at St John's we would like to welcome you to our website. St John's is a friendly Christian community that seeks to enable people of all ages to meet with God through the local church.
 Reverend Kirsty Screeton. Vicar of St. John's and St. Luke's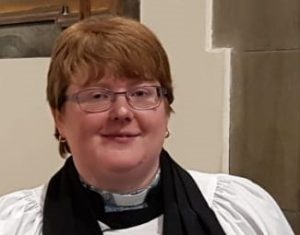 Epiphany 3 23rd January 2022
The Collect, Readings, my Sermon and Prayers can be found on the  Services: Sermon and Prayers page of the Menu.
Covid Updates from end of January:
From next Thursday (relaxation of Plan B) masks will not be compulsory in church. However, I would like to strongly recommend if your able to continue wearing these, due to continued high numbers in the area and protection of our more vulnerable.
Can I ask, if you have been at a church service or event, and test positive within 2 days of attending, you let me know. This is just so I can notify people via e-mail to be more cautious. Thank You.
Notices:
I am sorry to have to write that I have been notified that Joan Prescott has died.
Joan's funeral is at Rochdale Crematorium on 3rd February at 10:30 am. If anyone would like to go and needs a lift Louis has space for 2 more.
Our APCM is taking place on Sunday 13th March. The first part of this preparation is a review and updates of our electoral roll.
If you are on our electoral roll and have moved or updated details in last year please let Norman know. (A list of names is at the back of church of current roll)
If you are not on the roll and wish to be added, forms are available in church, which outline what this means, criteria and details we need.
Living in Love and Faith is the Church of England's national conversation about human identity, sexuality, relationships and marriage. It is about learning and listening to one another and to God. Each deanery is holding a course, you are welcome to attached either Rochdale's or another deanery's conversations. Details of forthcoming courses can be found – Diocese of Manchester | Living in Love and Faith (anglican.org)
In preparation of me finishing for maternity leave March time I have been thinking about these e-mails and facebook use. I already have a volunteer for the e-mails, but if someone feels they could help with Facebook uploads, and monitoring messages please let me know.
If you have a Children's society box, please can you bring them into church as soon as possible so Jenny Robinson can count and cash them.
Dates further afield: Tickets are now available.
Saturday 12th March 2022 – Houghton Weavers concert
Covid Reminders:
Please note that January coffee mornings were cancelled at both churches due to rise in covid numbers locally. February's will remain under review.
Refreshments after the service will remain if the following is followed:
Drinks to be made to order at the counter.
Once you have your drink please choose a table and remain in this bubble for refreshments.
Please continue to wear your masks while moving to and around the hall and remove for eating and drinking only.
Because of the current situation with Covid, and positive tests for some of our leaders Tiddlywinks will not resume before the end of January, 2022.
Both St. John's and St. Luke's can be found on Facebook or via their websites:
St. John's Hopwood (stjohnshopwood.org) / St Luke's Church, Heywood – Home (stlukesheywood.org.uk)
We hold an OFFICE HALF HOUR in church for the bookings of baptisms, weddings and banns on the 3rd Sunday of the month from 12.15 – 12.45pm. You are all very welcome to attend our All Age worship beforehand at 11.15am.
If you wish to discuss any pastoral matter, please contact our Minister Rev Kirsty Screeton on the vicarage telephone number 01706 416279, or via our Contact page.
If we can be of any help during this time of uncertainty please do get in touch.
Blessings Kirsty
 Rev'd Kirsty can be contacted on  01706 416 279, via email 'revkirstyscreeton@gmail.com' or via our Contact page.
If you want to contact us, please click here.
Mission Purpose Statement:
We are called by God to know Jesus through worship and discipleship. We seek to share the love of Jesus in our local community through welcome and outreach.
 For God loved the world so much that he gave his only Son, so that everyone who believes in him may not die but have eternal life.  John chapter 3 verse 16.
For a link to a location map, please click here – the church is on the junction of Manchester Road and Middleton Road.