On behalf of the church community at St John's we would like to welcome you to our website. St John's is a friendly Christian community that seeks to enable people of all ages to meet with God through the local church.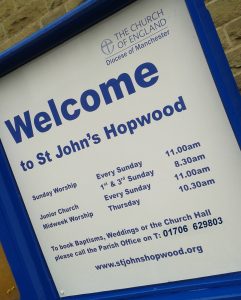 Our Priest-in-Charge: Rev. Shirley Devine
If you want to contact us, please click here.
For a link to a location map, please click here – the church is on the junction of Manchester Road and Middleton Road.
Our Purpose Statement:
 We are called by God to know Jesus through worship and discipleship.
We seek to share the love of Jesus in our local community through welcome and outreach.
Our Office Hour for booking or discussing Baptisms and Weddings with Rev. Shirley Devine alternates between St. Luke's and St. John's on Wednesday Evenings starting from 6.00pm. The first and third Wednesdays of each month will be at St. Luke's, with the second and fourth Wednesdays being at St. John's.  It doesn't matter where the Baptism or Wedding is to take place. No appointment is necessary.  Just turn up.  Only one person need attend, but both partners can come and bring children if that is easier. 
You can support us through Easyfundraising.