On behalf of the church community at St John's we would like to welcome you to our website. St John's is a friendly Christian community that seeks to enable people of all ages to meet with God through the local church.
 Reverend Kirsty Screeton. Vicar of St. John's and St. Luke's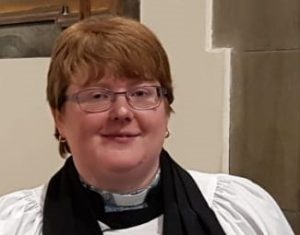 The  Service for the 3rd Sunday of Easter, my Sermon and Prayers by Lesley and The At Home Service Sheet can be found under the Services: Sermon and Prayers page
Please find enclosed::
At home Service Sheet
Sermons
Prayer by Lesley
April's Monthly Reflection
Below prayers for Prince Philip
Following a conversation with those who have been on the weekly brew and chat session, it has been decided to stop these for now. It has come to a natural pause however, if a need arises, we will restart them.
Thank you for all those who have contributed to the Quiz. Winners will be announced at the service on Sunday 11th.
Prayers for Prince Phillip
Merciful Father and Lord of all life, we praise you that we are made in your image and reflect your truth and light. We thank you for the life of His Royal Highness PHILIP, Duke of Edinburgh, for the love he received from you and showed among us. Above all, we rejoice at your gracious promise to all your servants, living and departed, that we shall rise again at the coming of Christ. And we ask that in due time we may share with your servant Philip that clearer vision, promised to us in the same Christ our Lord. Amen.
Eternal God, our maker and redeemer, grant us, with your servant PHILIP, Duke of Edinburgh, and all the faithful departed, the sure benefits of your Son's saving passion and glorious resurrection: that, in the last day, when you gather up all things in Christ, we may with them enjoy the fullness of your promises; through Jesus Christ your Son our Lord, who is alive and reigns with you in the unity of the Holy Spirit, one God, now and for ever Amen
Stay Safe
Blessings
Kirsty
Services:
Our 11.15am Sunday Service will continue to operate a booking system due to limited seating. To book in please contact Norman on a Monday and Wednesday evening between 5pm & 7pm ONLY
on 07795117919 – DO NOT leave a message – please speak to Norman, as we need to be clear whom we are booking for and obtain contact numbers for track and trace.
Booking will be taken for HOUSEHOLDS and SUPPORT BUBBLES only. (A support bubble is where two households have joined together as per government rules – Making a support bubble with another household – www.gov.uk) No exceptions will be allowed.
You can only book for one Sunday at a time.
Sunday 8.15am and Thursday 10.30am services will remain open, with no bookings in place. Unless they become overly busy and seating restricted.
Small Jars – If anyone has some small jars going spare please could I have them.
In the clearing of bother churches we have come across a number of old Easter / Worshipping candles. I am going to melt these down, and allow people to take them home, for use during prayer at home.
Coming to Church:
You will be welcomed into church. On a Sunday service, you will be marked in by those welcoming. On a Thursday a sheet to sign in will be available at the back of church.
There is a one way system in church, as marked on the floor, please adhere to this.
Please use the Hand Gel Provided and wear a mask unless except by government rules – Face coverings: when to wear one, exemptions, and how to make your own – GOV.UK (www.gov.uk)
Once welcomed please go to your allocated / chosen seat, please refrain from stopping in walkways and maintain 2-metre distance from those not in your household / support bubble.
Please follow instructions given during the services.
After the service, feel free to stay in your pew for prayers, when ready to exit please do this promptly and again keeping 2 meter distance and keeping walkways free flowing.
I appreciate that people do want to say hi, etc – Please can we ask that conversations are done outside of church, feel free to use the grass area, BUT remember to keep your distance and not create what would look like to others as a gathered crowd.
Lighting a candle will be allowed but ONLY before and after the service. To light a candle please do so from other lit candle. Only one household / support bubble at the stand at one time. Also, if have recently used Gel please wait 2 minutes before lighting a candle.
Sunday School:
Sunday Schools are unable to meet in person till we are in step 2 (No earlier than April 12th). However Sunday School will continue to operate as they are doing and updates will be given as available.
Not yet ready to come back to church:
We accept that people will be ready to come back to church at different stages, due to a number of reasons. We firstly want to assure you that as we gather back together, all will be in our prayers and thoughts.
We will maintain Zoom Chat and Midday Prayer on a Wednesday lunchtime 12 – 1pm which all are invited to.
Kirsty will also continue to send out weekly e-mails containing service for at home, sermon and prayers and, we will continue to deliver to those who currently have printed copies delivered. If anyone else, would like printed copies please do let us know.
Please find attached the annual notification for the Electoral Roll, in preparation for our APCM Meeting. If you are not on the electoral roll, want to ask questions, or check we have your correct details, please contact Norman or myself.
* Please see a link to a new monthly prayer lead from Bishop Mark Davies for the diocese. All the details are on the link – Diocese of Manchester Monthly diocesan prayer with Bishop Mark (anglican.org)
Heywood Foodbank are currently asking for carrier bags and egg boxes. If you can provide any of these, feel free to drop of between 10 – 12 on Monday and Fridays, or drop off on Saturday during private prayer at St Johns (2-3pm) or drop at the vicarage (if not in leave in porch or in blue bin).
If you have any questions please do not hesitate to contact me.
 Rev'd Kirsty can be contacted on  01706 416 279, via email 'revkirstyscreeton@gmail.com' or via our Contact page.
If you wish to book or discuss a baptism, wedding or any pastoral matter, please contact our Minister Rev Kirsty Screeton on the vicarage telephone number 01706 416279, or via our Contact page.
If we can be of any help during this time of uncertainty please do get in touch.
If you want to contact us, please click here.
APRIL'S MONTHLY REFLECTION
Our Faith and Our Actions
April is the month when we recall the memories and celebrate Dietrich Bonhoeffer's sainthood.
Bonhoeffer is a well-known German theologian and is someone who can certainly get us
thinking about how our faith affects our actions. So, who is he?
Bonhoeffer was born at Breslau in Silesia (now the Polish city of Wroclaw) in 1906. The family
moved to Berlin in 1912 when his father became Professor of Psychiatry and Neurology at Berlin
University. He received his theological education at the universities of Tübingen and Berlin and
was greatly influenced by the work of Karl Barth. After serving (1928–9) as an assistant pastor
in a German-speaking congregation in Barcelona, and a further year of study at Union
Theological Seminary in New York, he became a lecturer in theology in Berlin in 1931. An
outspoken opponent of Adolf Hitler and the Nazis, Bonhoeffer joined the Confessing Church,
which had formed in opposition to the infiltration and takeover of the German Lutheran Church
by Nazi sympathizers. They sought to be the authentic voice of the gospel in Germany and to
oppose attempts to force anti-Semitism on Church and society. Leaving Berlin in protest, he
spent two years (1933–5) as pastor of German-speaking congregations in London. While in
England he became friendly with Bishop George Bell of Chichester. Returning to Germany in
1935, Bonhoeffer became director of the Confessing Church seminary at Finkenwald in
Pomerania. But this institution quickly incurred the wrath of the Nazi authorities, who closed it
down in 1937. Bonhoeffer was in America when war broke out in 1939, but returned to
Germany, explaining, 'I shall have no right to participate in the reconstruction of Christian life in
Germany after the war if I do not share the trials of this time with my people.' He became
involved with the underground anti-Nazi opposition, no small step for a Lutheran accustomed to
believe in the God-given nature of the Church–State relationship. In 1942 he attempted to put
the German underground in touch with the British government via Bishop Bell. But the net was
closing in and he was arrested in April 1943 and imprisoned at Tegel prison in Berlin. The
involvement of many of his contacts in the July 1944 plot to kill Hitler may well have sealed his
fate, and he was moved several times, finally to Flossenberg concentration camp close to the
Czech border. It was as American troops were approaching the camp in April 1945 that
Dietrich Bonhoeffer
Saint's Day – 9
th April
Bonhoeffer was hanged. His writings, and especially his Letters and Papers from Prison have
been an inspiration to many who have sought to make sense out of persecution and needless
suffering. On New Year's Day 1945 he wrote a poem which included the following verse: Should
it be ours to drain the cup of grieving even to the dregs of pain at thy command, we will not
falter, thankfully receiving all that is given by thy loving hand.
(Taken from Church of England Saints on Earth: A biographical companion to Common Worship).
Bonhoeffers theological legacy is very influential. Due to his learning, teaching and views on
God, he is someone that influences all aspects of the church, all spectrums and many
denominations too. Central to Bonhoeffer's theology is Christ, in whom God and the world are
merged. He argued that Christians should not retreat from the world but act within it. He
believed that two elements were constitutive of faith: the implementation of justice and the
acceptance of divine suffering. So, what can we take away from Bonhoeffers live and
theological legacy?
We have just experienced the familiar story of Easter. We have heard a story that impacts
people on an individual level, and one that impacts the whole world too. Within this story we
hear not just about Jesus, but about the disciples too. Whom over the next few weeks, in our
Sunday readings, we hear how the disciples learn to live in the world, with their newfound
faith. As part of this process, the disciples need to overcome fear and doubt, they need to find
out what their newfound faith means for them, and they need to find the confidence to go and
testify, knowing that there will be some knockbacks and questions. However, in taking their
lives into the wider world we know that the disciples grew in themselves, but more amazingly
they grew many others too. They did this through their own believes and their actions and
bringing together their lives and the world together.
We to can travel this journey in these weeks post Easter in the way that Bonhoeffer challenges.
We can do this by asking ourselves
– Do we know what is the Gospel message that we want to share? The message that feeds
us and allows us to talk freely about what God does in our lives.
– Do we live out this message and apply it to everything we do?
– Do we allow our message to bring God and the world together?
Prayer: You Know The Way – Dietrich Bonhoeffer
O God, early in the morning I cry to you. Help me to pray
And to concentrate my thoughts on you. I cannot do this alone.
In me there is darkness, but with you there is light.
I am lonely, but you do not leave me. I am feeble in heart, but with you is strength.
I am restless, but with you is peace. In me is bitterness, but with you is patience.
I do not understand your ways, But You know the way for me.
Restore me to freedom, Help me to so live now,
That I may answer before You and before me.
Lord, whatever this day may bring, Your name be praised!
Mission Purpose Statement:
We are called by God to know Jesus through worship and discipleship. We seek to share the love of Jesus in our local community through welcome and outreach.
 For God loved the world so much that he gave his only Son, so that everyone who believes in him may not die but have eternal life.  John chapter 3 verse 16.
For a link to a location map, please click here – the church is on the junction of Manchester Road and Middleton Road.