On behalf of the church community at St John's we would like to welcome you to our website. St John's is a friendly Christian community that seeks to enable people of all ages to meet with God through the local church.
 Reverend Kirsty Screeton. Vicar of St. John's and St. Luke's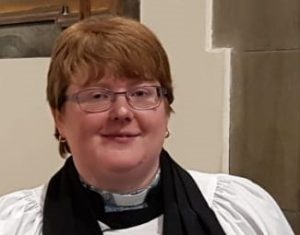 The  Service for  8th Sunday after Trinity.  Sermon plus prayers by John can be found under the Services: Sermon and Prayers page.
I am afraid I have some news to share. Berrin Paull (a long standing member of our congregation) passed away this week, following some time in springhill hospice. His funeral has been set. But I will share this information once I have spoken to the family.  Please pray for his family and fellow members of the congregation as we all morn his passing.
Notices:
Just to remind you the first of our service changes happens this week and that is the singing for 3 Hymns. Hymns books will be out in the pews.
Refreshments – We are hoping to introduce refreshments firstly outside from 1st August, then inside from 22nd August. However how we serve does need to change, one of these is the provision of biscuits. These need to be individually wrapped, therefore if anyone feels they could donate some individual wrapped biscuits for use these would be gratefully received.
1st August – at 1pm we will be holding Sue Duckworth's memorial service in church. All are welcome.
Refreshment Rota – Elizabeth is currently working on the coffee rota in preparation for after service drinks. If you would like to help on this rota please can you speak to Elizabeth Smethurst.
Summer Challenge:
Helen Morton (from St Lukes) has set up a lego challenge for those who want to take part each week (or odd weeks). Details will be sent out each week. Winner each week per age group and winners then put in a bigger pot for a prize at end of summer.
This weeks theme : what makes you happy!
Age groups: not yet at school, ks1, ks2, ks3+ (As of July 2021)
Deadline: Friday 30th July via email, Facebook comment
Submit picture and name and age group only. Winners will be announced on Monday with the next theme!!!
Helens emails is:
Sunday School has  re-opened in person at Church.
(please read carefully before booking)
Please make sure that you have booked your tickets via the following link:
https://www.eventbrite.co.uk/e/154076170975
Please only book for the upcoming Sunday. Make sure you book a ticket for your child(ren), and include their name and school year group on the form. Please also book an accompanying adult ticket if you will be remaining with your child in Sunday School.
If you wish your children to attend Sunday School and in in the main worship in church, please book yourselves a place by Contacting Norman on the information – above / below (please add which ever way it is)
Our 11.15am Sunday Service will continue to operate a booking system due to limited seating. To book in please contact Norman on a Monday and Wednesday evening between 5pm & 7pm ONLY
on 07795117919 – DO NOT leave a message – please speak to Norman, as we need to be clear whom we are booking for and obtain contact numbers for track and trace.
Booking will be taken for HOUSEHOLDS and SUPPORT BUBBLES only. (A support bubble is where two households have joined together as per government rules – Making a support bubble with another household – www.gov.uk) No exceptions will be allowed.
You can only book for one Sunday at a time.
Sunday 8.15am and Thursday 10.30am services will remain open, with no bookings in place. Unless they become overly busy and seating restricted.
Coming to Church:
You will be welcomed into church. On a Sunday service, you will be marked in by those welcoming. On a Thursday a sheet to sign in will be available at the back of church.
There is a one way system in church, as marked on the floor, please adhere to this.
Please use the Hand Gel Provided and wear a mask unless except by government rules – Face coverings: when to wear one, exemptions, and how to make your own – GOV.UK (www.gov.uk)
Once welcomed please go to your allocated / chosen seat, please refrain from stopping in walkways and maintain 2-metre distance from those not in your household / support bubble.
Please follow instructions given during the services.
After the service, feel free to stay in your pew for prayers, when ready to exit please do this promptly and again keeping 2 meter distance and keeping walkways free flowing.
I appreciate that people do want to say hi, etc – Please can we ask that conversations are done outside of church, feel free to use the grass area, BUT remember to keep your distance and not create what would look like to others as a gathered crowd.
Lighting a candle will be allowed but ONLY before and after the service. To light a candle please do so from other lit candle. Only one household / support bubble at the stand at one time. Also, if have recently used Gel please wait 2 minutes before lighting a candle.
Not yet ready to come back to church:
We accept that people will be ready to come back to church at different stages, due to a number of reasons. We firstly want to assure you that as we gather back together, all will be in our prayers and thoughts.
Kirsty will also continue to send out weekly e-mails containing service for at home, sermon and prayers and, we will continue to deliver to those who currently have printed copies delivered. If anyone else, would like printed copies please do let us know.
* Please see a link to a new monthly prayer lead from Bishop Mark Davies for the diocese. All the details are on the link – Diocese of Manchester Monthly diocesan prayer with Bishop Mark (anglican.org)
If you have any questions please do not hesitate to contact me.
 Rev'd Kirsty can be contacted on  01706 416 279, via email 'revkirstyscreeton@gmail.com' or via our Contact page.
If you wish to book or discuss a baptism, wedding or any pastoral matter, please contact our Minister Rev Kirsty Screeton on the vicarage telephone number 01706 416279, or via our Contact page.
If we can be of any help during this time of uncertainty please do get in touch.
If you want to contact us, please click here.
Mission Purpose Statement:
We are called by God to know Jesus through worship and discipleship. We seek to share the love of Jesus in our local community through welcome and outreach.
 For God loved the world so much that he gave his only Son, so that everyone who believes in him may not die but have eternal life.  John chapter 3 verse 16.
For a link to a location map, please click here – the church is on the junction of Manchester Road and Middleton Road.