On behalf of the church community at St John's we would like to welcome you to our website. St John's is a friendly Christian community that seeks to enable people of all ages to meet with God through the local church.
We welcome Reverend Kirsty Screeton as our new vicar of St. John's and St. Luke's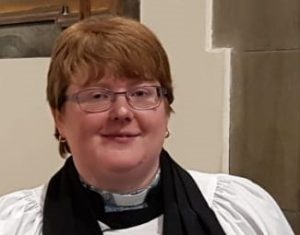 Welcome, I am Rev'd Kirsty Screeton and I began my journey to ordination over 10 years ago. Having explored and tested a number of vocations, I was accepted for ordination training in 2016 and attending 'The Queens Foundation College' in Birmingham where I trained for three years. Here I studied a number of theological areas and was privileged to take part in a trip to Sri Lanka, time with a chaplaincy team and a placement with a local funeral directors. Before accepting the post here with St John's and St Luke's I was curate in the Blackrod, Daisy Hill, Westhoughton and Wingates Team for three and a half years.
Previous work was in the care suppliers trade and in regards to church I have run the Pre Sunday School Groups, been part of Deanery Youth Groups and sat on a number children projects. I have a great theological interest in the role of communion in everyone's life, whether receiving the elements of bread and wine or whether coming forward for a blessing.  Whatever your reason for visiting the Heywood area, I would like to reassure you of a warm welcome and a place where all are accepted. Looking forward to meeting you. Blessings
Kirsty
FROM SUNDAY 16 FEBRUARY 2020 OUR SUNDAY SERVICES WILL BE AS FOLLOWS
EVERY SUNDAY                          11.15AM
1ST AND 3RD SUNDAYS                    8.15AM
JUNIOR CHURCH   EVERY SUNDAY          11.15AM
    Vicarage Telephone Number: 01706 416279
From February, our OFFICE HOURS to discuss and arrange Baptisms and Weddings will resume.  For St. John's they will be held on the 2nd and 4th Wednesdays of each month from 6.00 pm,  meeting in the Parish Room.
BAPTISMS ARE HELD ON THE THIRD SUNDAY OF EACH MONTH.
Mission Purpose Statement:
We are called by God to know Jesus through worship and discipleship.
We seek to share the love of Jesus in our local community through welcome and outreach.
Come unto me all that travail and are heavy laden, and I will refresh you.  Matthew chapter 11 verse 28.
If you want to contact us, please click here.
For a link to a location map, please click here – the church is on the junction of Manchester Road and Middleton Road.
You can support us through Easyfundraising.