On behalf of the church community at St John's we would like to welcome you to our website. St John's is a friendly Christian community that seeks to enable people of all ages to meet with God through the local church.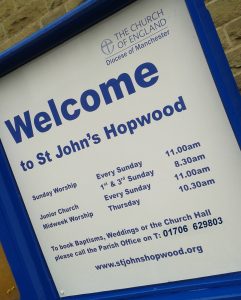 Our Priest-in-Charge: Rev. Shirley Devine
If you want to contact us, please click here.
For a link to a location map, please click here – the church is on the junction of Manchester Road and Middleton Road.
Our Purpose Statement:
 We are called by God to know Jesus through worship and discipleship.
We seek to share the love of Jesus in our local community through welcome and outreach.
Craft Fair& Heritage Day 2017
St. John's are holding a Craft & Heritage Day on Saturday 16 September. Included will be a display of weddings which have taken place at church. Also we have copies of Marriage Registers from July 1920 up to the end of 1980 available. If anyone has been married at St. John's and would be willing to loan us a photo to copy, could you get in touch with Elizabeth Smethurst on elizabethsmethurst@talktalk.net.
In addition we have some Baptism Registers,plus Remembrance Books on those from our Parish who died in the First and Second World Wars.  Along with general history memorabilia on display, there will be refreshments available, cakes, plus coffee, tea and soft drinks.
Crafts include card making, photography, woodcarving, knitted crafts, needlework and paintings.
Our Office Hour for booking or discussing Baptisms and Weddings with Rev. Shirley Devine alternates between St. Luke's and St. John's on Wednesday Evenings starting from 6.00pm. The first and third Wednesdays of each month will be at St. Luke's, with the second and fourth Wednesdays being at St. John's.  It doesn't matter where the Baptism or Wedding is to take place. No appointment is necessary.  Just turn up.  Only one person need attend, but both partners can come and bring children if that is easier. 
You can support us through Easyfundraising.