On behalf of the church community at St John's we would like to welcome you to our website. St John's is a friendly Christian community that seeks to enable people of all ages to meet with God through the local church.
 Reverend Kirsty Screeton. Vicar of St. John's and St. Luke's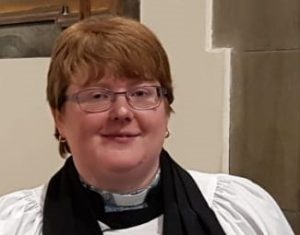 Trinity 8 – Sunday 7th August 2022
Thank you for visiting St John's Hopwood website. A lot of our church information re services, clubs, contacts and recent sermons and prayers can be found on the relevant information pages. However below are some quick finds and temporary updates, especially in my absence due to being on maternity leave from the 22 March. Blessings Kirsty
The Collect, Readings plus Prayers by Lesley and Sermon by Robert can be found on the  Services: Sermon and Prayers page of the Menu.
We have received a message from Archdeacon Karen Lund advising that this week the diocese is opening the registration process to attend the 'Generosity and Thankfulness: Inspiring and equipping our churches' conference.  It will take place online on Saturday 24th September between 10 a.m. and 4 p.m., and aims to build on the success of our first giving conference in February 2020, and the launch of our diocesan giving strategy in November last year. Please register now for your free place online at https://whova.com/portal/registration/domgc_202209.  Please make sure you include the details of your church and the deanery it is part of, and you have chosen your two morning and two afternoon workshops. See attachment for more informationThe diocese are promoting 2 Foundations for Ministry courses starting in September:
The diocese are promoting 2 Foundations for Ministry courses starting in September:
Monday evenings: St Mary the Virgin, Bury Parish Church, Bury BL9 0LA
Wednesday evenings: St Andrew's, Droylsden, Manchester M43 6BH
Attached is a link below to a new promo video.
More details can also be found on the diocesan website using the link below and the deadline for applications is Monday 5th September.
https://www.manchester.anglican.org/development-and-training/ffm/
We have received the following message from the Revd Anne Gilbert, more details are attached
I am writing to let you know about some events we have planned for September, firstly a series of talks called Dying To Talk, I have convened these as part of my role as Manchester Diocese and Rochdale Deanery Funeral Champion. I have also planned a Suicide Awareness event for the national day on 10th September. I would appreciate it if you could promote these, and encourage your parishes to participate, I have attached an outline of each event.
Dying To Talk.
In British society talking about death and dying is a taboo. We often avoid saying the words death or dying instead we prefer to say that they have "Passed Away", are "Late", "Lost" or "Departed".
This often means that people are unprepared for when one of our nearest and dearest dies.
This series of talks, by professionals, will offer the opportunity to talk about dying and to plan for what happens when someone dies and relate to those we love over the last part of their lives.
The talks will be held in St Aidan's Church Hall from 2-4pm and will begin with refreshments before a talk from and expert in their field, with the opportunity to ask questions at the end. Everyone is welcome to attend and each session stands on its own so there is no obligation to come to all 6.
Saturday 3rd September – Let's Talk About Dying led by a Doctor from Springhill Hospice
Saturday 10th September – Registering And All That led by Aileen Bollard, Service Manager – Registration & Celebrant Services at Rochdale Registrars
Saturday 17th September – Working With The Undertaker led by Abigail Palmer Dixons Funeral Service
Saturday 24th September – Will, Legacies And All That led by Donna Myers Solicitor and Diocesan Registrar
Saturday 1st October – Let's Talk About Finances led by Judith Dunn Assistant Solicitor Molesworth's Bright Clegg
Saturday 8th October – Tackling Grief And Bereavement led by Sally Ann Clouston from Springhill Hospice
The talks have been convened by The Revd Anne Gilbert, Manchester Diocese and Rochdale Deanery Funeral champion. If you would like more information you can contact her via email – revannegilbert@gmail.com or by phone 01706 346774
World Suicide Prevention Day Rochdale – Candlelit Walk and Vigil
Saturday 10th September 2022
What is World Suicide Prevention Day?
Every year organisations and communities around the world come together to raise
awareness of how we can create a world where fewer people die by suicide.
The latest suicides statistics showed that in 2021, in the Rochdale area / Borough 29 people
died by suicide and it is estimated that there will be 33 in 2022. Every life lost to suicide is a
tragedy.
And we know that suicide is preventable, it's not inevitable.
But not being okay is still widely stigmatised. And governments can still make better, more
ambitious plans to prevent suicide.
This year to raise awareness of this issue we are holding a candlelit walk from Riverside
One through to centre of town ending at St Mary in the Baum where we will remember those
who have died by suicide.
The event is being supported by PAPYRUS, Andy's Man Club, Rochdale Samaritans and
Rochdale Mind. Each will share why they are involved in preventing suicide and what they
offer to those in need of support.
We are inviting anyone who would like to join us for this event to bring their own candle in a
jar to Riverside One for 6.30pm on Saturday the 10th September when we will set off on the
walk. They are also invited if they choose to bring a picture of someone they would like to
remember and will be given the opportunity to add this to a memory book with a written
memory as part of the vigil. The book will then be kept in St Mary in the Baum and be
available to view in church.
We hope that by raising awareness that people will know that is it ok not to be ok, and that
they will reach out for the help that they need
For baptism, wedding and reading of banns bookings and enquires please come along to our office booking session. 3rd Sunday of each month 12.15 – 12.45pm in the church hall. You are more than welcome to join us for our all age worship before at 11.15am. (For funerals your funeral director will make contact with us).
For hall booking enquires please complete our 'Contact Us' option and your message will be forwarded to the relevant person.
If you want some bereavement support, feel free to contact our lay bereavement minister on Diane Pullan – 07761 864267
For other enquires not answered via our website please either contact us via our 'Contact Us' page and your message will be forwarded to the relevant person, or contact our Church Warden, Carol Grime, on 07735796396.
Contacts whilst Rev. Kirsty is on leave: please find below some key contacts should you need them
Church Warden: Carol Grime – grimec77@gmail.com / 07735796396
Church Calendar – a list of church / hall availability is on the calendar in the hall, however before adding anything, please do just check with Geoff and Joan Varley. This is mainly as they are overseeing funeral bookings so need to know when church is available and not. varwin@hotmail.co.uk
Both St. John's and St. Luke's can be found on Facebook or via their websites:
St. John's Hopwood (stjohnshopwood.org) / St Luke's Church, Heywood – Home (stlukesheywood.org.uk)
If you wish to discuss any pastoral matter, please contact our Minister Rev Kirsty Screeton via our Contact page.
If we can be of any help during this time of uncertainty please do get in touch.
If you want to contact us, please click here.
Mission Purpose Statement:
We are called by God to know Jesus through worship and discipleship. We seek to share the love of Jesus in our local community through welcome and outreach.
 For God loved the world so much that he gave his only Son, so that everyone who believes in him may not die but have eternal life.  John chapter 3 verse 16.
For a link to a location map, please click here – the church is on the junction of Manchester Road and Middleton Road.