On behalf of the church community at St John's we would like to welcome you to our website. St John's is a friendly Christian community that seeks to enable people of all ages to meet with God through the local church.
We welcome Reverend Kirsty Screeton as our new vicar of St. John's and St. Luke's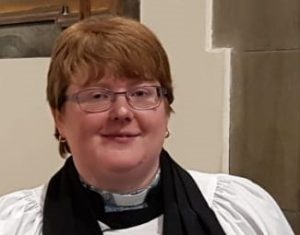 EASTER
I wanted to provide you with a resources for Palm Sunday to Easter Sunday, in the hope that although we can not be together in person, we can be together in a journey of prayer, reflection and action. To help with this I have put together, with the help from a few others, the attached worship book. There is more of an intro in the book, but for each day there is either a sermon or reflection linked to the Bible Reading set for the day, a prayer and an action point for you as an individual or you as a family. Please use it how best works you. Please refer to Easter Time on the menu.
(I will also be posting each day the reflections on our facebook pages, so feel free to share or read on there if easier.)
Dear all
I am sorry and sad to inform you that Glen Foxley died in Highfield Nursing Home this morning 2nd April. He and Brenda are long time parishioners of St. John's and he will be sadly missed. May he rest in peace, and God bless Brenda and all his family.  
Denise Collinson – Churchwarden
Please remember also Dawn Edith Riley whose funeral took place Thursday 2nd April) and for Gladys Evans and Beulah McSorley whose funeral takes place this week and their families.
If you wish for prayers for a friend or a relative you can provide details via our Contact page.
If you wish to book or discuss a baptism, wedding or any pastoral matter, please contact our Minister Rev Kirsty Screeton on the vicarage telephone number 01706 416279,  or via our Contact page.
If we can be of any help during this time of uncertainty please do get in touch.
If you want to contact us, please click here.
Mission Purpose Statement:
We are called by God to know Jesus through worship and discipleship. We seek to share the love of Jesus in our local community through welcome and outreach.
 For God loved the world so much that he gave his only Son, so that everyone who believes in him may not die but have eternal life.  John chapter 3 verse 16.
For a link to a location map, please click here – the church is on the junction of Manchester Road and Middleton Road.
You can support us through Easyfundraising.