On behalf of the church community at St John's we would like to welcome you to our website. St John's is a friendly Christian community that seeks to enable people of all ages to meet with God through the local church.
 Reverend Kirsty Screeton. Vicar of St. John's and St. Luke's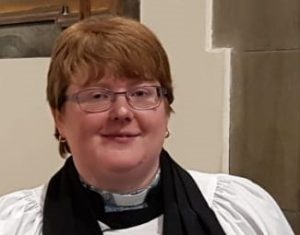 Rev'd Kirsty can be contacted on  01706 416 279, via email 'revkirstyscreeton@gmail.com' or via our Contact page.
Sadly, our normal Thursday and Sunday Worship is postponed and church can only open for private prayer and funerals.
Weekly Communications:
I will continue with weekly e-mails / facebook notices as I have been, which will include a copy of the Homily or different sermon, prayers and notices.
For anyone not on e-mail, the re-offer of these printed and delivered will be available again.
This week we celebrate Christ the King Sunday.
At our 10am Zoom service we will have an interactive sermon – For those not online last week please do come ready to answer the questions – If you were King / Queens for the day what one thing would you change? Also, don't forget to bring your Crown to wear (homemade is great).
At our 11am Service we will be having a Guest speaker – Archdeacon David. The senior leadership team have prepared a number of sermon for our use, and as it is not easy to share these in church, Zoom and email allows us to do so. Crowns also welcome
This is pre-recorded and for those not joining us on zoom at 11am the link is below to access the sermon for this week.

Christmas Appeals:
For those who contributed to the Shoe Box appeal in any way Thank You. We sent off 137 in total to families in need.
Just a reminder that there is a box in church for the Heywood Toy appeal, or you can arrange to drop off the gifts yourself at the opticians on the Hight Street.
Also, for those shopping online a reminder about Easy Fundraising – This costs you nothing and take less than 5 minutes to set up. But church can get lots of free donations from it. Speak to Norman, or I, for more information.
Other Notices:
Denise' ALM was up for renewal this year and was meant to be renewed at a service in September. Last week, to our surpise, Denise received through the post a certificate of renewal and badge new badge. Thank you to Denise for all she has done in this ministry and we look forward to working with you going forward.
Jenny Robinson is now collecting Children's Society boxes. If you have a box please can you pass this to Ivor, or request for it to be left in the vestry, or drop off at the vicarage.
If you don't have a box and wish to make a donation this year you can by making a cheque payable to The Children's Society
If you would like a box for next year – we will make some available at the back of church – please do take one, or request one if none around.
I have been made aware that St Luke Primary School have a place available on the governors board which is for a church position. If you would be intrusted in this role, or would like some more information please do contact me.
Please find attached, prayers, Order of Service for 1st Sunday before Advent under the Christ the  King menu
Private Prayer:
As you know both churches are open for Private Prayer during for the rest of lockdown too. The days and times are:
St Lukes Tuesday 10.30 – 11.30am
St Johns Saturday 2 – 3pm.
If you have any prayer requests, support needs, etc please either speak to those on duty or contact Rev'd Kirsty. 01706 416 279 revkirstyscreeton@gmail.com
If you wish to book or discuss a baptism, wedding or any pastoral matter, please contact our Minister Rev Kirsty Screeton on the vicarage telephone number 01706 416279, or via our Contact page.
If we can be of any help during this time of uncertainty please do get in touch.
And if you shop online – please don't forget to sign up to Easy Fundraising – cost to you FREE
If you want to contact us, please click here.
Mission Purpose Statement:
We are called by God to know Jesus through worship and discipleship. We seek to share the love of Jesus in our local community through welcome and outreach.
 For God loved the world so much that he gave his only Son, so that everyone who believes in him may not die but have eternal life.  John chapter 3 verse 16.
For a link to a location map, please click here – the church is on the junction of Manchester Road and Middleton Road.
You can support us through Easyfundraising.