On behalf of the church community at St John's we would like to welcome you to our website. St John's is a friendly Christian community that seeks to enable people of all ages to meet with God through the local church.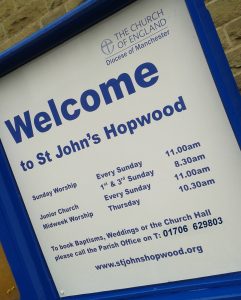 Our Priest-in-Charge: Rev. Shirley Devine
TRINITY
Purpose Statement:
We are called by God to know Jesus through worship and discipleship.
We seek to share the love of Jesus in our local community through welcome and outreach.
Dates to book or discuss Baptisms or Weddings are held on the 2nd and 4th Wednesday of the month at St. John's Church and on the 1st and 3rd Wednesdays at St. Luke's Church, starting at 6.00pm.
No appointment is necessary. Only one person need attend, but both partners can come and bring children if that is easier.
St. John's PCC  is sad to announce that our Vicar Rev. Shirley Devine will be taking early retirement on ill-health grounds.  Her last day will be Sunday 15th July.   We will continue to pray for her and her family and wish them well in the future.  At that time, we will be entering a period of Interregnum, before a new incumbent can be appointed and St. John's PCC will be working with our Archdeacon to ensure this is done as speedily as possible.   There is a message on the Vicarage telephone number  01706 629803 advising callers where they can obtain assistance.  Contact with St. John's church can also be made on email  via this website.
If you want to contact us, please click here.
For a link to a location map, please click here – the church is on the junction of Manchester Road and Middleton Road.
You can support us through Easyfundraising.