On behalf of the church community at St John's we would like to welcome you to our website. St John's is a friendly Christian community that seeks to enable people of all ages to meet with God through the local church.
 Reverend Kirsty Screeton. Vicar of St. John's and St. Luke's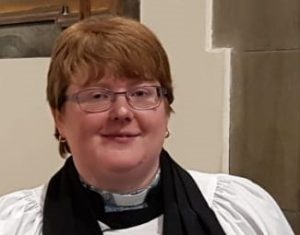 TRINITY 16
With effect from Sunday 27th September, please book future Sunday
Services with NORMAN COLLINSON 07795 117919
Between

5pm

and

7pm

on

Mondays

or

Wednesdays

ONLY.
Please leave your name, telephone number and details of people attending, for future contact tracing purposes
If you have not booked in during one of these times, you are welcome to come to church to see if there are any spaces, but once we have reached capacity we will have to say NO.   (Not what we want to do, but need to keep everyone safe and follow government and church rules).
 The sermon and prayers for Sunday 27 September and previous Sundays can be found under Trinity Sunday on the menu. (I will also be posting each day the reflections on our facebook pages, so feel free to share or read on there if easier.)
NOTICES
Reminder that our APCM is on Sunday 27th September at 12.15pm. You should have received documents by e-mail this week. A few hard copies are available at the back of church.
We are going ahead this year with the shoe box appeal. Should you wish to take a Shoe box home to fill, pre wrapped boxes will be available from the back of church next week, with a leaflet available for what to pop inside. Full boxes will be collected by the spiral staircase at the front right of church.
There has been some recent changes to confirmation service in light of this week's announcements. If they will still be in place in January is anyone's guess. My plan is to do preparation as planned and then if service if moved, changed, etc everyone will be prepared and ready to go.
Our Sunday School is now up and running again. Again there is a booking system and details will follow shortly.
Confirmation – we have a confirmation service booked in for Sunday 10th January at our 3pm service. The youth information has been sent out via our Sunday School leaders (please shout up if not received). For adults, please click  our Contact page below and we will email you  the information for adults. Please do ask if any questions and let me know if you are considering. Please arrange for confirmation forms to reach me for anyone wishing to start confirmation preparation.
We have also agreed, after some careful consideration, to open up the card and book table.  All these items are available in the entrance area. Please sanitise your hands before and after use, bring change where possible and we ask that you maintain social distancing. These are available before and after each service.
If anyone has any empty Jam jars, please can you bring these to church and leave under the Jam sale table.

Please can I remind you, if applicable to you, that I will be signing High School forms each Sunday after morning service. If you have not already done so, please let me know if you are wanting a form to be signed so I can have the information ready.

Please bring a copy of the relevant form all filled in (apart from the church section) ready for me to check and sign off.
If not attending the service please be at St Lukes for 10.15am and St Johns for 12.15am
If you are unable to make these times please contact me to arrange another suitable time.

Holy Family Governors – There is a place coming available at Holy Family School, one to represent the diocese and one a co-opt position. If you are interested in standing for either of these please can you speak to me this week.

 If you have any prayer requests, support needs, etc please either speak to those on duty or contact Rev'd Kirsty. 01706 416 279 revkirstyscreeton@gmail.com
If you wish to book or discuss a baptism, wedding or any pastoral matter, please contact our Minister Rev Kirsty Screeton on the vicarage telephone number 01706 416279, or via our Contact page.
If we can be of any help during this time of uncertainty please do get in touch.
If you want to contact us, please click here.
Mission Purpose Statement:
We are called by God to know Jesus through worship and discipleship. We seek to share the love of Jesus in our local community through welcome and outreach.
 For God loved the world so much that he gave his only Son, so that everyone who believes in him may not die but have eternal life.  John chapter 3 verse 16.
For a link to a location map, please click here – the church is on the junction of Manchester Road and Middleton Road.
You can support us through Easyfundraising.