On behalf of the church community at St John's we would like to welcome you to our website. St John's is a friendly Christian community that seeks to enable people of all ages to meet with God through the local church.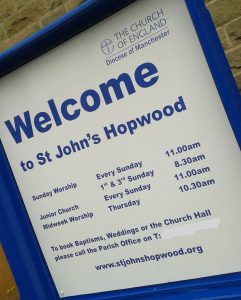 Vicarage Ansaphone – 07751 098 377     Contact with St. John's church can also be made on email via this website.                                                                                                      
Welcome to Reverend Kirsty Screeton, currently curate in the Blackrod benefice, who will be joining us as vicar on the 3rd February.                  
The service of induction will take place at 7.30pm on Monday 3rd February at St. John's.  On Sunday 9th February there will be a Joint Introductory service at St. Lukes starting at 9.15am.  There will be NO service at St. John's on that day.  
For the months of December and January, dates to book or discuss Baptisms or Weddings will be taken after our 11.00am Sunday Service from 12.15pm till 12.45pm.
BAPTISMS ARE HELD ON THE THIRD SUNDAY OF EACH MONTH.
Mission Purpose Statement:
We are called by God to know Jesus through worship and discipleship.
We seek to share the love of Jesus in our local community through welcome and outreach.
Come unto me all that travail and are heavy laden, and I will refresh you.  Matthew chapter 11 verse 28.
If you want to contact us, please click here.
For a link to a location map, please click here – the church is on the junction of Manchester Road and Middleton Road.
You can support us through Easyfundraising.