On behalf of the church community at St John's we would like to welcome you to our website. St John's is a friendly Christian community that seeks to enable people of all ages to meet with God through the local church.
 Reverend Kirsty Screeton. Vicar of St. John's and St. Luke's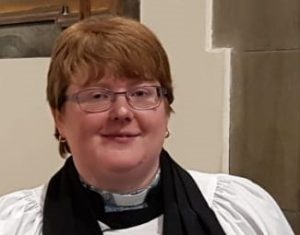 St. Luke's Sunday  
Sermon from myself and prayers below from Phil at St Luke's while Sunday School are leading our prayers this week in our All Age service
Home Service for St. Luke's Sunday can be found on the:  Services: Sermon and Prayers page of the Menu.
Notices:
Our Shoe Box Appeal has begun – boxes and leaflets are available from the back of church. Please do complete a box, or two, if able.
Sunday 7th November at 3pm – We will be holding our All Souls Service of Remembrance and Commemoration. The names of those who have died this year will be read out (where I have taken the service). If you wish to attend and add on your own family and friends names please do so on the list at the back of church.
First Aiders: it is advisable that we have first aiders available during church services. If you are a regular attender and feel you could fill this role please could you speak to Kirsty. Training will be given.
WORK DAY – The last work day for the year has been set – Thursday 28th October. It will be between 9am and 12 noon and we will break off at 10.30am for the weekly Communion Service in church and resume after tea/coffee break etc. Those not wishing to attend the service can continue the jobs in the Parish room or outside. There are quite a few jobs, so the more hands the lighter the work please.
Dates:
Saturday 23rd October – St John's Coffee Morning 10.30am – 12noon
Saturday 23rd October – Quiz Night at St Lukes – Tickets are now available from Kirsty after Church – £5.
If planning on coming please do buy your tickets asap so we can ensure there is enough pie.
Friday 26th November – Family Quiz at St John's Church to raise money for Billy Pullan a scout leader with St John's units – leaflet and details attached.
Please join us to raise funds for Billy Pullan – Assistant Leader (one of 4 leaders taking 36 children from Greater Manchester North to the World Scout Jamboree in South Korea 2023) – Billy needs to raise £3000 to go on this trip of a life time, do come along if able.
Future dates for concerts at St Luke's (with tickets available soon)
Sunday 19th December – Blackley Brass Band Concert
Saturday 12th March – Houghton Weavers concert
COVID REMINDERS: Please can I remind people that if you, or anyone you are attending church with, are not feeling well that you either do a lateral flow before attending church, or do not attend. Many of our church members are either vulnerable or are caring for vulnerable relatives and we still need to be cautious and care for one another.
We hold an OFFICE HALF HOUR in church for the bookings of baptisms, weddings and banns on the 3rd Sunday of the month from 12.15 – 12.45pm. You are all very welcome to attend our All Age worship beforehand at 11.15am.
If you wish to discuss any pastoral matter, please contact our Minister Rev Kirsty Screeton on the vicarage telephone number 01706 416279, or via our Contact page.
If we can be of any help during this time of uncertainty please do get in touch.
Blessings Kirsty
 Rev'd Kirsty can be contacted on  01706 416 279, via email 'revkirstyscreeton@gmail.com' or via our Contact page.
If you want to contact us, please click here.
Mission Purpose Statement:
We are called by God to know Jesus through worship and discipleship. We seek to share the love of Jesus in our local community through welcome and outreach.
 For God loved the world so much that he gave his only Son, so that everyone who believes in him may not die but have eternal life.  John chapter 3 verse 16.
For a link to a location map, please click here – the church is on the junction of Manchester Road and Middleton Road.